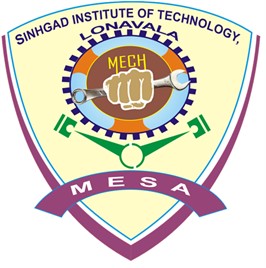 MESA is the Mechanical Engineering Students Association, which aims to play a pivotal role in the development of students as an Engineer by various curricular and Extra curricular activities.
MESA aims to inculcate among its members an awareness and appreciation of the various disciplines of not just Mechanical Engineering but also other relevant fields. MESA also provides platform for all the students of Mechanical Engineering department for their overall technical and general skill development. MESA seeks to be an active organization of the Mechanical Engineering department in SIT which promotes their career interests.
OBJECTIVES:
To focus on the cutting edge technology and present it to the students in an interesting manner by means of lectures, articles and workshops.
To bridge the gap between theoretical and practical knowledge.
Promoting the interests of students in various technical areas pertaining to Mechanical Engineering.
Giving relevant information to students to sustain their interest in their field-specific applications of Mechanical Engineering.
Providing students of the department with relevant knowledge of their fields, given the inter-disciplinary nature of Mechanical Engineering.
Interacting with other technical societies, within and outside the institute to promote flow of knowledge and interest.
Providing a platform for interaction between faculty and the students and especially the seniors and juniors of the department.
To promote the interaction between academia and industry.
To encourage novel ideas by means of special projects.
Committee Members:
| | | |
| --- | --- | --- |
| President | Dr. M.S.Gaikwad | Principal S.I.T. |
| Vice-President | Prof. S. M. Gaikwad | H.O.D |
| Staff in Charge | Prof. Amol Nimbalkar | Faculty |
| Secretary | Ashish C. Dhakol | Student |
Achievments:
Sanket Mani addressed the special session of United Nations General assembly (UNGA) & is a Youth Ambassador for UN Millennium Program MY World Survey and the Ambassador for UNCSD Rio+20 India Program.
Puneet Mathur, Bhushan Chougule (TE Mecahnical Engg.) has filed a Patent on "Automated Motorized White Board"on 24th Oct.2013
Sankalp Astana (BE Mechanical Engg.) got selected in Indian Army under UES (PFY23)
Amarnath Reddy (TE Mechanical Engg.)Was the campus Ambassador for UNDDD Rio+21 India Program for Water Cooperation.
Hitesh Darshe (T.E. Mechanical Engg.) presented a project on "Re-Design of Hybrid Auto Rickshaw "at 16th ISTE Student National Convention 2013 at PMU Thanjavur.(TN) in Sept .2013
Activities Conducted
Sr. No.
Activity Title
Academic Year
1
Covid Poster Making
2020-21
2
Teacher's Day
2019- 20
3
Rain Marathon
4
Fresher's Party
5
Workshop on Patent Filing
6
Workshop on IC-Engine
7
Seminar on placements
1. Teacher's Day Celebration
The teacher's day celebration was held on 5th September in Sinhgad Institute of Technology Mechanical Department. It was organized by MESA Committee to show their gratitude toward teachers. Teachers day is celebrated in India in order to mark the birth anniversary of Dr. Sarvapalli Radhakrishnan who was a staunch believer of education and was a well-known diplomat, scholar, President of India and above all a Teacher. When Dr. Radhakrishnan became the president of India in 1962, he was approached by some of his students and friends and requested him to celebrate his birthday as Teachers day. In reply, Dr. Radhakrishnan said, "Instead of celebrating my birthday separately, it would be my proud privilege if September 5 is observed as Teacher's Day". The request showed his love for teaching profession. From then onwards the day is celebrated as Teacher's Day in India.
2. Rain Marathon
Rain marathon was Conducted by mechanical department to spread awareness  about health and fitness on 30th August 2019 near SIT main building . Event tagline was 'stay fit and stay young'. Snack and Glucose were provided to participants with emergency ambulance facility.
SAE Club
Activity Conducted under SAE Club
2019- 20
1. ENDURO STUDENT INDIA 2019
In Enduro Student India -2019, a competition for Engineering students held at Talegaon in Mawal it was great day for 'SIT' and 'SKNSITS'. It's story of co-operation and collaboration, skills and talents with the blend of hard work.
Mechanical engineering departments of 'SIT' and 'SKNSITS' extended hands of co-operation with each other came together, a group of 30 students was formed from both institutes, (that too students from rural background of agriculturist families) distributed work, planned accordingly. Design aspects were worked out on paper, search for spares was completed. Majority of assembling of the various parts was carried in the college workshops. The testing requirements included rough roads, the team selected hilly terrains nearby campus, prepared them still difficult and training of skilled driver to take on the adventureous rides.
All this took a span of one year. The four wheeler called ATV, all terrain vehicle was ready for tests of breaks, and other stringent standards of Enduro Student India. After green signal from them it was ready for participation in competition. It was yesterday Prof. Namdev Gavade of 'SKNSITS', Prof.P.D. Kulkarni of 'SIT'received three awards : 1st prize in sprint, endurance and 2nd place in Dirtx. In fact 'Sprint' means in a set period of time during which specific work has to be completed, here it is race. 'Endurance' is the ability to endure difficult or an unpleasant process or situation without giving way. The endurance of ATV was tested for four hrs during competition. Dirt-X is Different from Directx (a collection of application programming interfaces (APIs) for handling tasks related to multimedia, especially game programming and video, on Microsoft platforms.) Here Dirt-X means strength of suspension and overall vehicle performance is tested on challenging track.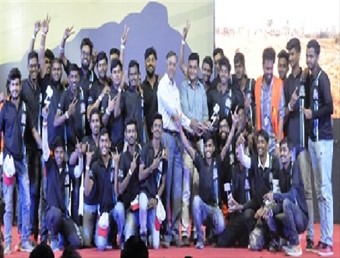 2. INTRODUCTION TO AUTOMOBILE PART MODELLING AND DESIGN COMPETETION
The students of 'SAE INDIA SIT LONAVALA COLLEGIATE CLUB' of Mechanical Dept. had organized a two day Workshop on ' Introduction to Automobile part modelling' and 'Design Competition' on 29/ 01/2019 and 1/02/2019.
Around 40 Students attended this 2 day Workshop.  The students were taught with the basic concepts of the Part modelling on "CATIA SOFTWARE", and were further guided with how the Designing of the different automobile parts  is done on the Software.
The Workshop concluded with the Part modelling competition where students were given challenging tasks that had to be completed within the given time. Mr. Kalpesh Pagar from Second Year was the Winner of this competition and Mr. Krushanu Patil from Third year was named Runner up after the Evaluation.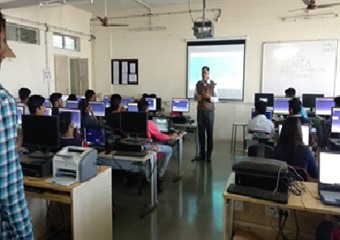 3. AWARENESS ON SAE PROGRAMS
The students of the 'SAE INDIA SIT LONAVALA COLLEGIATE CLUB' with a broad aim of spreading awareness about SAE among the college students, organized a Awareness program , where the students where addressed with the benefits of  being the SAE Collegiate club Member , and what all activities are carried out under the professional body of SAE .
The students were also made aware about different student level events which  are organized by the SAE India and SAE international at National and International  Levels.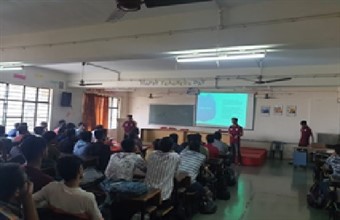 4. SAE INDIA MAIN BAJA 2020
Academic year 2019-20 started with a dream of designing and Fabricating a Off-road ATV.
The group of 25 Students from 'TEAM WOLFPACK' Mechanical Department of  SIT lonavala , Started this journey under the Guidance of  Prof. P D. Kulkarni .
The BAJA SAE Series is an event for the undergraduate engineering students, organized globally by the Society of Automotive Engineers, USA.  The BAJA SAE tasks the students to design, fabricate and validate a single seater four - wheeled off road vehicle to take part in series of events spread over a course of 3 days that test the vehicle for the sound engineering practices that have gone into it, the agility of the vehicle in terms of gradability, speed, acceleration and manoeuvrability characteristics and finally its ability to endure that back breaking durability test.
This event is divided into two stages , first stage is the 'VIRTUAL ROUND' and Second Stage is the 'MAIN EVENT'.
5. VIRTUAL ROUND
The Virtual Round was held at " CHITKKARA UNIVERSITY , CHANDIGHAR" , in the month of July 2019. In Virtual round the students have to present there vehicle model and prove its significance in front of the Judges, each team is given 20 mins of on screen presentation on which there preparation for actual Vehicle Manufacturing is Evaluated. More than 300 teams all over India Participate in this Competition and only 120 are selected for the main event. SIT lonavala, ranked  80th all over India and there after began there Journey of the Manufacturing of the Vehicle.
In the span of August to January , with day and night of hard work , struggle and team work this students build there own off – Road Atv. Major assembling of the vehicle was done in the College Workshop itself , and the necessary spares where Procured from Bhosri. Then began the testing phase, testing requirements included rough roads, the team selected hilly terrains nearby campus, prepared them still difficult and training of skilled driver to take on the adventureous rides. After all this the team was ready with there Vehicle for the Main Event.
6. MAIN EVENT
The MAIN EVENT of BAJA SAEINDIA was held at " NATRIP TRACKS, PITHAMPUR, INDORE", in the Month of January. In the main event the students have participate in the Statics as well as dynamic events. The static Events Included the Design Evaluation, Sales Presentation and Cost report. For eligibility of participating in Dynamic events the prepared Vehicle has to go through Rigorous Technical Evaluation, Engine Check and Finally the brake test. After completing all of this scrutiny Test SIT lonavala vehicle was given a green flag for the dynamic events. The dynamic events included Manoeuvrability , Suspention traction , Accelaration , rock crawl and finally  the 4 hours Endurance. Our all India Rank in Endurance race was 26th.